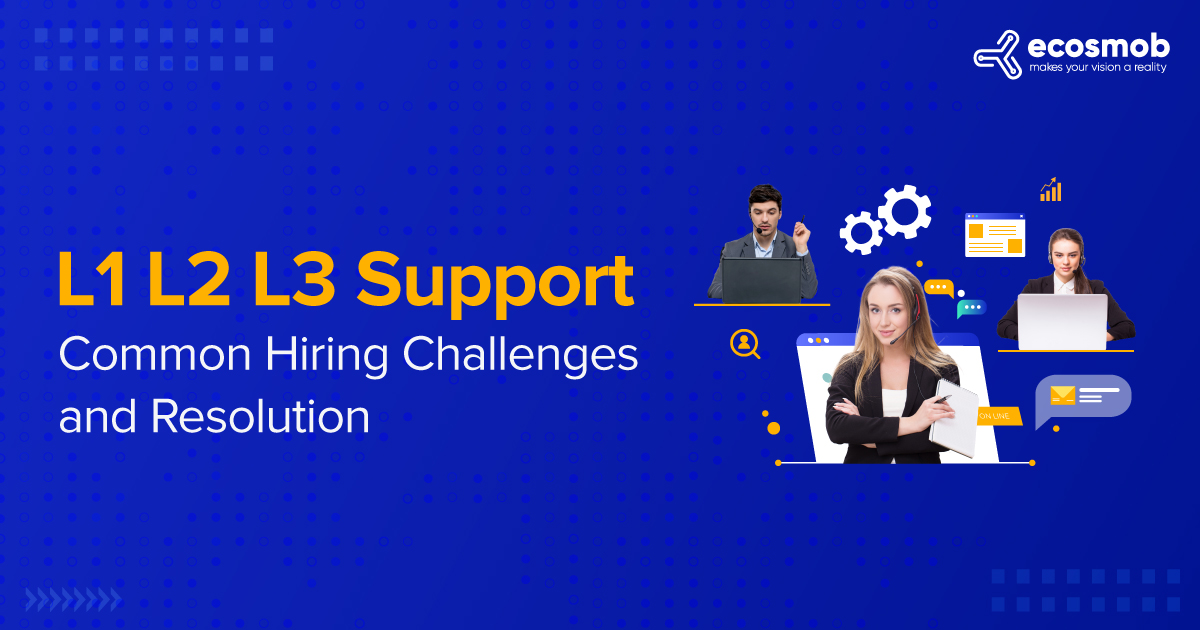 Businesses rely heavily on technology to run operations in today's fast-paced digital world. Organizations use IT systems, from small startups to large enterprises, streamline processes, automate tasks, and improve productivity. However, with the increasing complexity of IT systems, L1, L2/L3 support are the three levels of technical support companies provide to their customers. It has become difficult for businesses to manage and maintain them independently. That's why many companies now rely on IT support services to handle their technology needs. First, this guide will discuss L1, L2/ L3 Support.
What Is L1, L2, and L3 Support
IT support services come in different levels – L1, L2, and L3 support – each offering diverse technical expertise and support levels.
L1 support
It is the first contact point for customers experiencing technical issues. It is also known as "first-line support." The primary responsibility of L1 support is to provide customers with basic troubleshooting and triage support. You can hire L1 support engineers who usually handle simple customer inquiries like account setup or password reset. If the issue is not resolved by L1 support, they will escalate it to the next level of support.
L2 Support
This is the second contact point of technical support, also known as "second-line support." The L2 support staff has more specialized knowledge and expertise than the L1 support. They usually handle more complex technical issues requiring in-depth troubleshooting, such as network connectivity or software configuration problems. If L2 support cannot resolve an issue, it will escalate to L3 support for further investigation.
L3 Support
It is the highest contact level of technical support, also known as "third-line support." The L3 support staff has the most technical knowledge and expertise, including specialized technical skills for product or service support. They usually handle the most complex technical issues that require extensive research and in-depth troubleshooting, such as application bugs or system failures. L3 support staff also works closely with the product development team to identify and resolve more complex issues.
Now that we have discussed these three let's dive into how intricate the process of hiring support engineers is and how to resolve them.
Challenges of Hiring L1/L2/ L3 Support Engineers And Resolution
It is crucial and essential for every organization to divide up support jobs among employees at numerous levels for different reasons. It provides adequate customer service, resolves problems quickly, assists personnel, and enhances employee training. Hiring competent support engineers for level 1 and level 2/3 support takes a lot of work. Let's quickly review those difficulties and provide solutions to them.
Bringing Up Your Needs With The Relevant Organizations
Finding the ideal agent to hire these individuals is crucial before hiring L1, L2/ L3 support specialists. You must describe your search for hiring organizations in detail. Despite the abundance of options and choices available, you must ultimately decide which ones best meet your list of demands and criteria. Before starting anything, you must identify a business that can assist you in meeting and respecting your needs.
Significant Outlays
It is only sometimes physically viable for HR to assist in assembling the ideal team. Thus, they seek assistance from recruitment companies, which help once we pay, and sometimes the charges are prohibitive. You would be mistaken if you believed spending stopped after paying the recruiter's fees. The costs keep mounting.
Finding the Right Talent
The main challenge is to find the right talent for the role. L1 support engineers require basic technical knowledge, whereas L2 and L3 support engineers need advanced technical skills. Finding candidates with technical expertise, communication skills, and problem-solving abilities can be challenging.
Managing Skill Gaps
Many organizations need to pat more skill gaps when hiring support engineers. L1 support may require more technical knowledge to resolve complex issues, and L2 and L3 support engineers may need training to stay updated with emerging technologies.
Allocating Resources And Hiring L1, L2/L3 Support Specialists
Finding the best recruitment agencies to engage with and laying out your requirements is the first challenge in hiring an L1, L2/L3 support team. With so many options, selecting the appropriate hiring partner could be challenging and time-consuming. Another challenge is finding a company that knows your hiring needs and has an extensive recruitment network to help you hire the best employees.
High Competition
Due to the demand for skilled support professionals, hiring for L1 support, L2, and L3 positions can be highly competitive. Companies can differentiate themselves by offering competitive salaries, benefits, and career development opportunities.
Hiring L1, L2, and L3 support engineers can pose several challenges making it tiresome for organizations to find and retain top talent, manage skill gaps, and effectively balance workload volumes with the right strategies.
What's The Escape – Outsourcing L1, L2/ L3 Support Engineers
You can get all your issues resolved through outsourcing. The advantages of outsourcing IT help desk L1, L2, and L3 support are listed below. The cost of staffing the help desk decreases because of these long-term benefits, which also speed up the outsourcing process and give access to a broader spectrum of knowledge.
Reduces The Expense Of Hiring
First and foremost, it is a significant relief to avoid the headache of hiring and paying fees to recruitment companies. It would be best to deliver the provider's outsourcing cost when outsourcing the IT support desk. Employers can refrain from paying for hiring, employee benefits, salaries, and other administrative expenses by choosing permanent applicants.
Outsourcing Saves Time
IT support organizations' employees frequently handle many businesses' L1, L2/L3 support. Hence, you only need to look for resources if your demand is exceptionally pressing. Except for outsourcing fees, you can benefit from infrastructure and assistance that is always available.
Expertise Is Constrained If Your Internal Team Handles The IT Help Desk
In contrast, IT support organizations use a pool of knowledgeable, highly experienced individuals who quickly and reasonably solve complicated issues. Hence, you won't have to worry or put up with inaccurate and delayed solutions while dealing with inadequate IT support expertise.
Saving Space With Remote IT Help Desk Assistance
Another thing to think about is logistics, especially if you need a lot of resources to provide help desk support. But, when you outsource your IT desk support and hire a small crew, you save a lot of office space and avoid the difficulties of making investments and logistical arrangements for the help desk setup.
Credibility Of The Resource Is Not A Concern Of Yours
Your remote resources are an extension of your team, but since they aren't your workers, the outsourcing business is still responsible for their reputation and other variables like qualifications. Therefore, your satisfaction with the company's service and user and customer feedback is essential to you.
Get Technical Help 24/7
With an internal team, 24-hour IT help desk service might not be practicable or economically feasible. You must pay night shift rates, allowances, etc., and overhead costs to keep the help desk engine running at night, even when there are few users.
Yet, you can get technical help round the clock if you outsource. The resources guarantee round-the-clock support for your users, preventing technological issues from impeding your output.
Interestingly, except for the provider fee, you do all of this without making any significant infrastructure expenditures.
Read more:- Hire IOS Developers
Wrapping Up
Your organization's help desk system is crucial, so you need responsible, trustworthy, and credible people to maintain the desired service standards and reputation. L1, L2/L3 support teams ensure customer satisfaction and resolve technical issues. However, by understanding these common support issues and their solutions, support teams can provide efficient and practical assistance to their customers. An outsourced organization manages IT support services much more affordable. Ecosmob is a known L1, L2, and L3 support engineers outsourcing firm that helps divert resources from much more worthy initiatives, which are costly and challenging to sustain over time.
Employer hiring processes can be complex and time consuming, making it difficult to find qualified employees in a timely manner. The concept of L1, L2, and L3 support is becoming increasingly popular in the hiring process, as it provides an effective way to bridge gaps between job seekers and potential employers.
L1, L2, and L3 level support systems are a useful way to streamline the hiring process, allowing employers to identify candidates quickly and efficiently. L1 customer support positions are the most accessible entry-level positions and are generally defined as front line customer service representatives. L2 customer support positions are more technically advanced, as they require employees to have at least basic technical knowledge. L3 customer support positions are the highest-level customer service positions, with employees typically having advanced technical knowledge and experienced customer service skills.
The implementation of L1, L2, and L3 level support systems can provide employers with an opportunity to quickly and accurately match job seekers to available positions. It ensures that prospective employers are aware of a job seeker's qualifications and technical abilities, and can help make the hiring process smoother and more efficient.
An effective L1, L2, and L3 support system can also help employers with common hiring challenges such as a lack of qualified candidates and a high volume of resumes. By syncing job seeker values and qualifications to the specific criteria outlined for specific positions, hiring managers can be confident in their ability to source the most suitable candidates for their organization.
The L1, L2, and L3 support system also helps employers to reduce time-to-hire, meaning that top talent can be quickly and accurately identified and matched to job openings. Implementing an effective L1, L2, and L3 support system allows employers to dramatically speed up the hiring process, allowing them to save valuable time and resources.
Overall, the L1, L2, and L3 support system provides employers with a way to quickly and accurately match potential employees with suitable position openings. It helps to streamline the hiring process and more effectively identify qualified candidates, helping to reduce common hiring challenges and speed up the process of recruiting talented employees.